Canada | France | Italy | Spain | U.S.A.
Azienda Agricola Signano | Castello di Magione | Colutta | Muschi Alti | Villa Russiz
Azienda Agricola Signano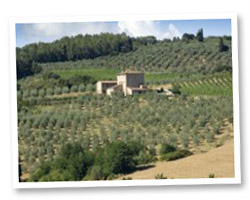 Azienda Agricola Signano was founded in 1961 with the purchase by Ascanio Biagini ofa small two hectare plot of land planted to Grechetto and Sangiovese.
In the following years the company has been expanded, buying piece by piece the land contiguous to the original vineyard.
The wines are the result of the special attention that begins right from the vineyard.
Wines
White Wine
2012 Vernaccia di San Gimignano $20.00
2012 Vernaccia di San Gimignano "Selezione Poggiarelli" $24.00
2010 Vernaccia di San Gimignano Riserva "La Ginestra" $34.00
Rosé Wine
2012 Vino Rosato $20.00
Red Wine
2011 Chianti Colli Senesi $20.00
2010 Chianti Colli Senesi "Selezione Poggiarelli" $32.00
2007 San Ginignano Rosso "Il Ginepro" $43.00
Dessert Wine
2006 Vin Santo $49.00